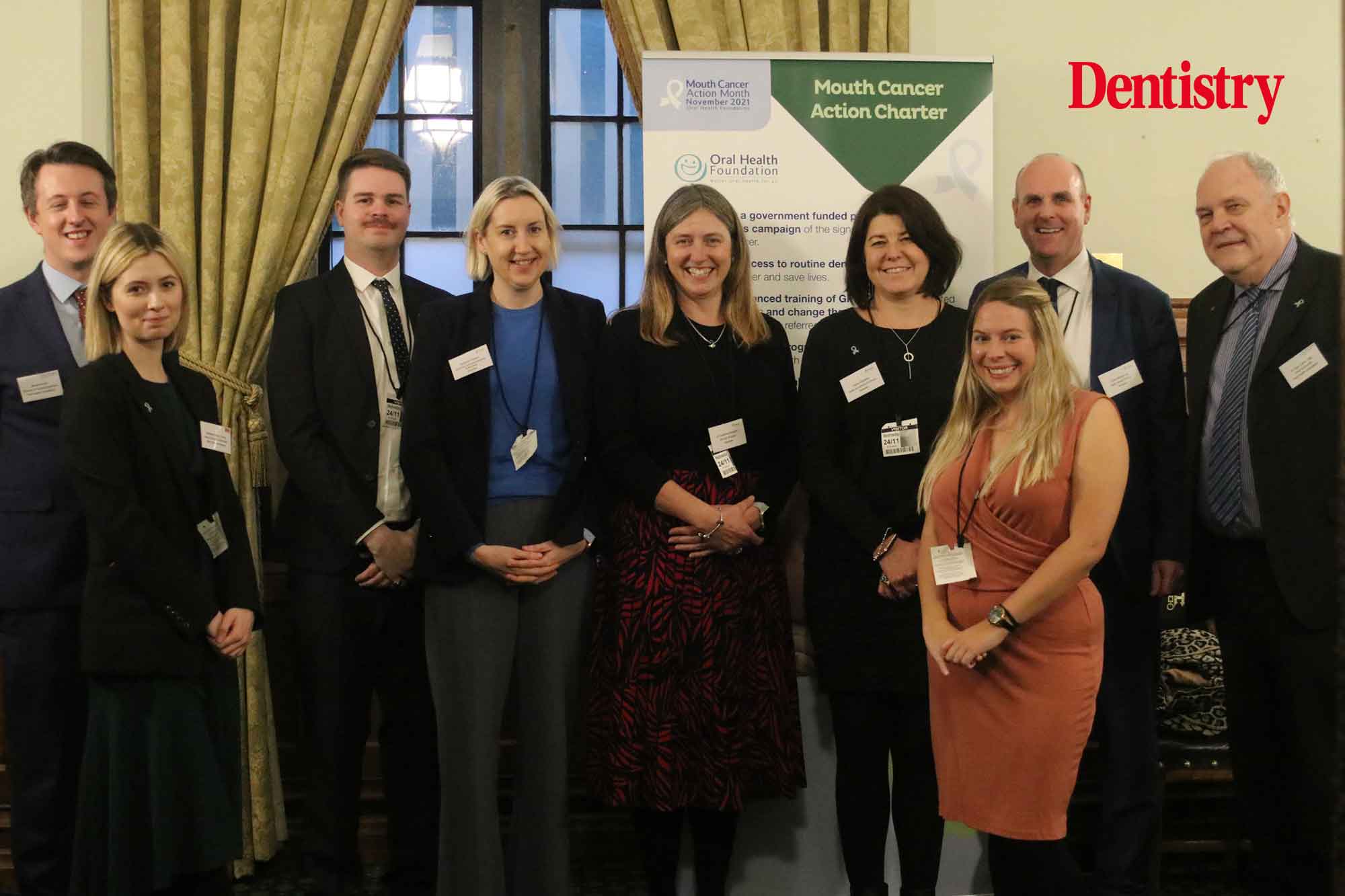 Seb Evans reports back from the Oral Cancer Action Charter signing at the Palace of Westminster last month. Leading figures from dentistry along with MPs all joined to sign the latest Mouth Cancer Action Charter towards the end of 2021. The charter challenges the government on six key actions:
Conduct a government-funded public health awareness campaign on mouth cancer

Improve access to routine dentistry for earlier detection of mouth cancer
Enable enhanced training of GPs
Improve training programmes for healthcare staff to spot mouth cancer
Introduce free check-ups and treatment for mouth cancer patients
Support the development of better technology to diagnose mouth cancers.
The campaign also encourages patients to become more self-aware. The aim is for patients to check their mouths themselves in front of the mirror once a week.
Focusing on mouth cancer
'With this event here today, we're trying to raise up the politician and policy maker's agenda the importance of mouth cancer and the impact it has,' Nigel Carter, chief executive of the Mouth Cancer Foundation, said.
'We're trying to get more investment in mouth cancer. It would be great to have some central investment to have an awareness campaign.
'Access is getting worse rather than better, even without Covid. That's a real challenge. 
'It is as a cancer that has so much impact on people's lives, 50% of the people diagnosed with mouth cancer never return to work. The impact on people's lives, their lifestyle, their quality of life is immense.
'And survival rates just haven't improved over the last 30 years, whereas if you look at most other cancers, they've improved. Mouth cancer's five-year survival rates have remained flat and cases have doubled.
'It really is something that needs focusing on more.'
'Don't just look at the teeth'
'From the dentists' point of view, they've got to remember to look at the patient's mouth,' Sir Paul Beresford MP said.
'Don't just look at the teeth, look all the way around. Patients can be aware of this and if the dentist doesn't actually look and tell the patient they've had a good look round, there could be difficulties.
'Over my career I've probably seen 12/15 cases of oral cancer. Because I've managed to get them all early, only one of those patients actually died of cancer. And that was only because the patient wouldn't attend to see the oral surgeon. 
'Mouth cancer rates are rising, firstly because the HPV vaccination hasn't cut in due to the age. Secondly, it's an increase in detection and the third thing is patients aren't going to the dentist. Finally, general awareness is low. If we can increase awareness, people can look for it themselves. If they find something suspicious, see the dentist.
'The treatment, if it's beyond very early stages, is drastic and very unpleasant.
'The Mouth Cancer Foundation is really helping make a change with patient's awareness.'